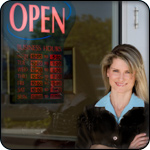 "We need a (new) website!," "We need a better accounting system!," "We need to do a better job of marketing!," We need a printer that works!," "We need better communications!" Sound familiar?
Tight budgets, limited resources, impossible timelines… At Ultreya Solutions Group, we understand the needs of small business and thrive on finding creative solutions to meet their unique requirements.
Strategic Consulting
We love small business.  And we believe every small business should have access to a great technology company. If you're looking for help developing a strategy for improving operations or creating a long-term IT strategy that grows with your business, we can help. When it comes to strategy, we'll work with you to define smart goals and objectives and show you how technology can help you achieve them.  From concept to implementation, we'll take responsibility for getting your ideas off the ground and into the hands that need them.
Solution Implementation
When it comes to the nuts-and-bolts of IT, you can trust Ultreya Solutions Group certified technicians to get the job done right… the first time.  From procurement to installation and configuration to on-going and on-site support, leave the work to us.
Helpdesk - PC/Mac troubleshooting, remote desktop support, software support, hardware management, remote data backup and restore, virus & spyware diagnostics/removal. Toll-free phone and web-based ticketing choices.
System Deployment - Planning, procurement, introduction, installation and configuration of computers, cabling, software and communications.
Server Support & Security - Firewalls, VPN, data protection and restoration, spyware, spam and virus protection for Microsoft Windows Server, and Apple XServes.
Network Configuration - Desktops, laptops, servers, mobile devices, routers, switches, VoIP, and wireless (WiFi).
Preventive Maintenance - Support contracts, spam and antivirus installation and configuration, On-site/off-site backups.
Web/Application Development - Website design, hosting, online application development, online reporting.
Staffing – Recruiting for temp-to-direct hire, direct hire, short-/long-term staff augmentation.
Flexible Support Options – Extended warranties, maintenance contracts, block time, time and material.
Extended Access
We've been building lasting relationships with other top-tier businesses, since we started. They're trusted resources for us and we're happy to put our clients in touch with them. That means, with Ultreya Solutions Group, you have access to great business services beyond technology.
If you're running a small business, we really want to hear from you.  What are the challenges you're facing?  Which technologies do you have questions about?  Use the contact form on this page to ask questions and send us your comments.
Contact us: 816.478.3913