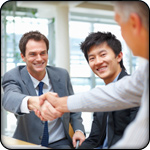 In an age where technology has become such an integral part of our lives, it's a shame that it often fails to make our lives easier. Perhaps nowhere is this more evident than in recruiting human resources. If an in-box flooded with undesirable resumes seems to be all you're getting from your recruiting provider, then you're missing out on what could be a productive, precise, and rewarding experience.
Ultreya has the expertise to provide the right skills for any type of IT or management position. We've handled projects ranging from one to dozens of hires at a time for direct hire, temp-to-direct hire, and contracted short-/long-term staff augmentation assignments. Small business and organizations like Sprint, IBM, the State of Missouri, and Blue Cross/Blue Shield trust the Ultreya Solutions Group Recruiting Team to gather precise requirements for position(s), screen and source candidates, and interview them before making a recommendation for placement.
Our Process
We begin every recruiting engagement by first understanding your needs and helping you determine the right type of hire for your situation.  Not sure if a contracted position makes the most sense?  Or, if a direct hire is the way to go?  We'll help you through that decision making, too.
Whatever your industry and size, every Ultreya Solutions Group client sees the benefit of the same process to insure we're presenting only the best candidates for your specific needs.
Sourcing – Candidates are sourced through a variety of channels.  We're leaders in a world-wide resource network and utilize referrals, external databases, and an extensive social network to find all levels and type of talent.
Screening – Candidates are screened initially by gathering basic information, reviewing qualifications, checking references, and assessing baseline eligibility.
Interviewing – Each candidate undergoes our own interview process with at least one member of our recruiting team, in which they are evaluated and verified against their resume, have their technical or managerial skills tested, and questioned about career goals, ideal working environments, personality traits and other related information.
Managing – We take care of arranging, coordinating and preparing each candidate for interviews with personnel from your organization.
Verifying – We want to make sure you know who your getting so can rest assured we'll do the background check and drug-testing as necessary.
Placing – We do whatever you need us to do to make sure your new hire has completed all the necessary paperwork and taken all the necessary steps to be ready to work on day one.
Following Up – Our commitment to your satisfaction means that we conduct follow-up sessions with the new hire and you.  It's our way to make sure you're happy, the new hire is happy and that we can be ready to move on your next assignment.
Your Talent Resource
We've placed hundreds of great people in all kinds of small business, large corporate, and government positions.  If you need to fill one of the following positions, contact us today!
Executive/Management
Administrative Assistants
Analysts
Software/Web Developers
Software Engineers
Database Administrators
Data Warehousing Specialists
QA Testers and Analysts
Network Engineers
Project Managers
If you can benefit from having access to a terrific human resource pool, streamlined hiring processes, and expert hiring recommendations, we want to hear from you.  Use the contact form on this page to send us your requests, questions and comments about our technology staffing capabilities, benefits and resources.
Contact us: 816.478.3913